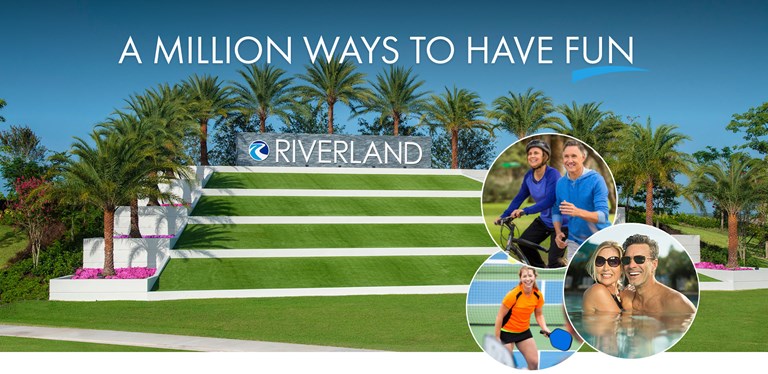 DISCOVER OUR 4,000-ACRE MASTER PLAN
Encompassing nearly 4,000 acres, Riverland is a master planned community by Florida's leading builder GL HOMES that brings excitement and fun to residents ready for a new adventure. Whatever your passions are, you'll find a way to explore them every day at Riverland.
Livability and connectivity is the foundation of life at Riverland. A 16-acre Sports & Racquet Club offers dozens of outdoor courts and a massive fully-equipped gym. A regional Arts & Culture Center is the perfect place to broaden your creativity and explore lifelong learning. Riverland's bustling Town Center and multiple City Parks add to the community's appeal. The scenic Paseo Greenway is way more than your average car-free pedestrian pathway, connecting everyone and everything throughout the neighborhoods like never before.
Everything at Riverland works together to help you find more enjoyment in your life.
CONNECT ON THE PASEO GREENWAY
This gorgeously landscaped, eco-friendly, traffic-free pathway connects everyone and everything throughout the neighborhoods like never before. Zoom through the two-mile pathway and the community to visit neighbors, parks, amenities, and more!

STAY FIT AT THE SPORTS & RACQUET CLUB
With 16-acres dedicated entirely to fitness, the Sports & Racquet Club makes it easy for you to stay as active as you want. From over 40 outdoor sports courts to the massive fully-equipped fitness center with indoor pool, Riverland knows how to do fitness right so you'll never need a gym membership again! There's room for everyone to join in tournaments or simply hit the courts with friends. Whether you're setting new fitness goals, meeting neighbors for a friendly game or taking on a new sport, Riverland's Sports & Racquet Club has you covered.

51,000 SQUARE-FOOT WELLNESS & FITNESS CENTER
The stunning Wellness & Fitness Center at Riverland is made up of 51,000 square-feet of space that features everything from a massive gym with state-of-the-art cardio and strength training equipment, personal training and dedicated group fitness classes to an indoor pool and sports court, plus outdoors you'll find two junior Olympic size pools, a resistance pool and spa.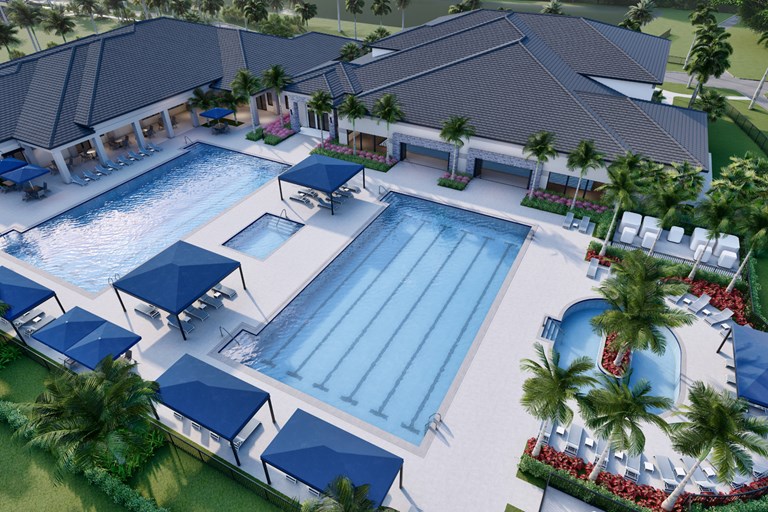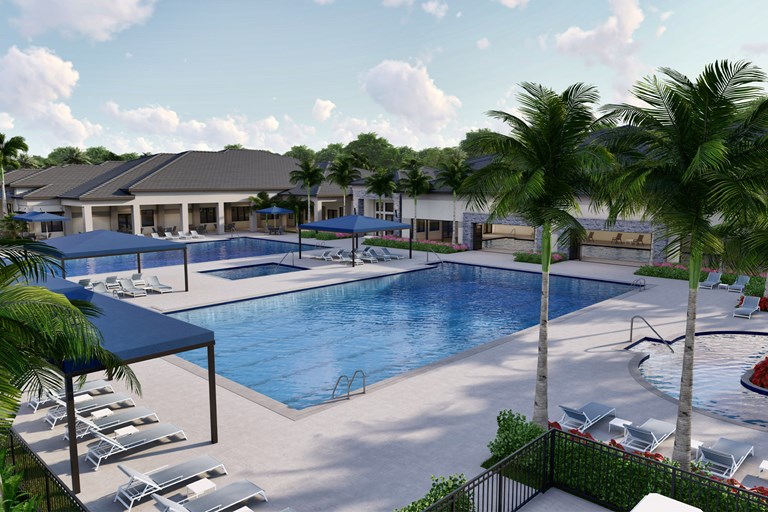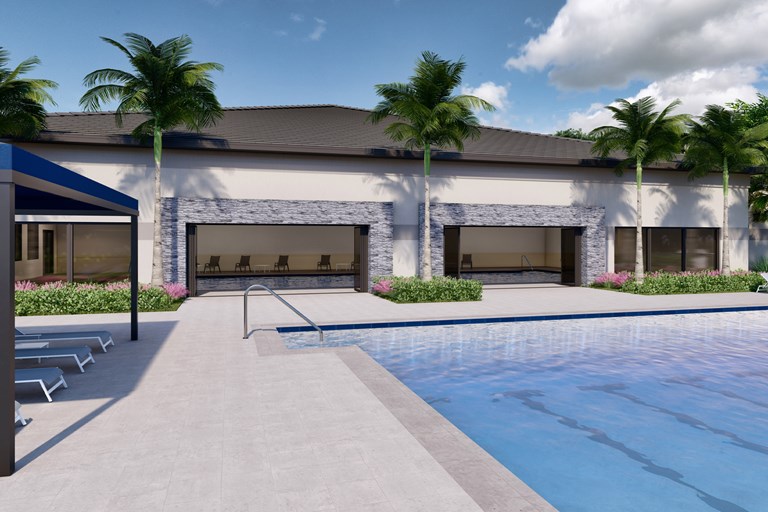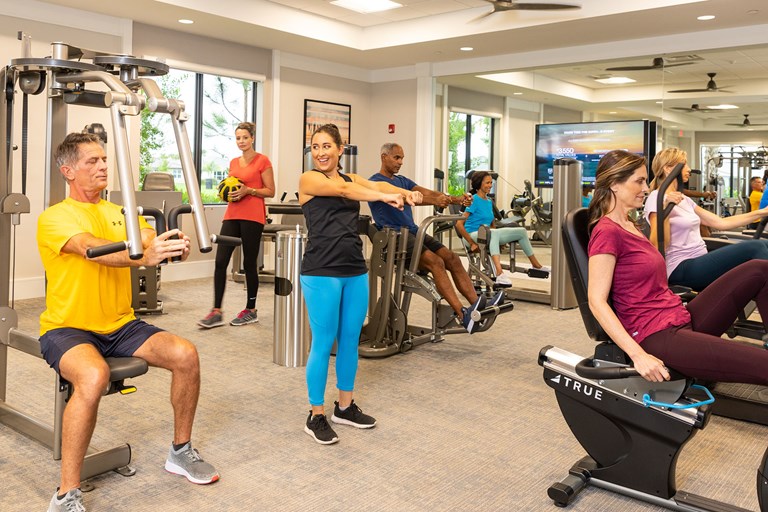 COMING SOON!
When you live at Riverland you'll never need a gym membership again! Here residents will enjoy a robust fitness program planned around what residents want most with popular indoor and outdoor activities such as aqua fitness, Zumba, Pilates, yoga, barre and so much more.
EXPRESS YOURSELF AT THE ARTS & CULTURE CENTER
Live life inspired at Riverland's Arts & Culture Center. Sharpen your culinary skills, create a masterpiece or participate in lifelong learning programs. Plus, cook farm-to-table style while flexing your green thumb in a community garden! This center is a community space dedicated to self-expression.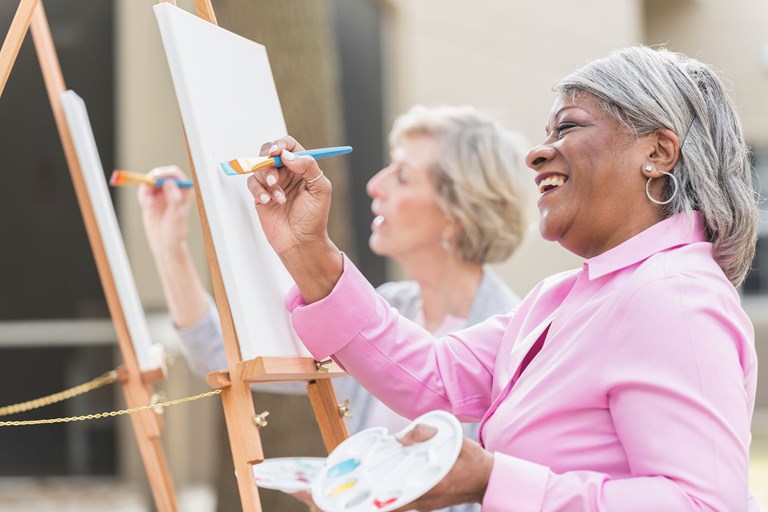 Get creative
Exercise your creativity! Drawing, painting, sculpture, 3D art – you name it, we've got it! Specific programs and events at this Riverland facility are tailored to what residents are most interested in.
SHOP & PLAY AT THE TOWN CENTER & CITY PARKS
A lively Town Center is at the heart of Riverland. A mix of commercial and retail space right in your own neighborhood is perfect for your everyday needs. Meet friends for lunch, shop or run errands at Riverland's convenient Town Center. Also, access acres of City Parks located at Riverland via the Paseo Greenway. Picnic, play, sports, walk your dog or just take in the scenery.